Vi har forbedret program ved å legge noen nye konvertering funksjoner. Nå programvaren kan ikke bare importere filer av EML, MSG, EMLX (og valgfritt MBOX og MBX) formater til Outlook, men også konvertere disse filtypene til PST, RTF, tekst, EML, MSG, TNEF og HTML formater. For å dra nytte av denne nye funksjonen trenger du bare å sjekke "Konverter EML og MSG-filer til:" alternativet og velge hvilket filtype på den første veiviseren siden.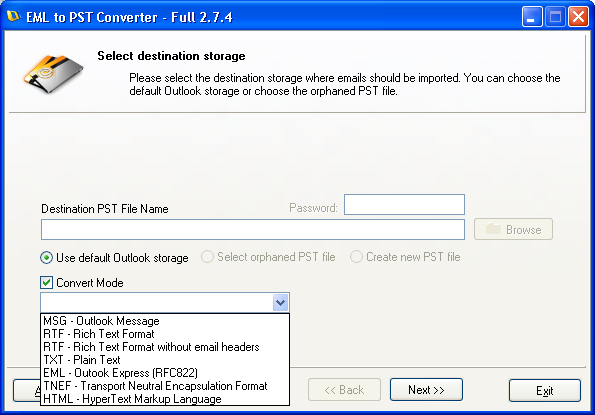 Dermed programmet er kompatibelt med filformater EML, MSG, EMLX for innmating og PST, RTF, tekst, EML, MSG, TNEF og HTML for utdata.
Støttede dataformater:
EML til PST – Import Outlook Express e-filer til Microsoft Outlook-profil
MSG til PST – Importere innfødte MS Outlook-filer i Outlook dataformat
EML til MSG – Konverter Entourage EML-filer til Outlook kompatibel PST
MSG til EML – Konverter Outlook e-post til EML format (MSG Converter)
EML til RTF – Konverter EML filer til Microsoft Word-dokumenter
MSG til RTF – Lagre Outlook e-post til Word kompatibelt format (Konverter MSG)
EML til HTML – Slå eml filer til Web-dokumenter av HTML-format
MSG til HTML – Lagre Outlook e-post til filer av html-format
EML til TXT – Konvertere e-post av RFC-formatet til de rene tekstfiler
MSG til TXT –

Save Outlook emails t the text document
Nå kan du holde arkiv av meldinger i noen av de tilgjengelige formater egnet for lesing, analyserer, søking og sporing. Forbereder bokstaver for import i rettssystemet, litigation management system and responses to Freedom of Information Act requests. It is useful for cross-group companies which are cooperating, but using the different email software or projects where messages are stored in the shared folder and for customer support teams, which often receiving emails from customers in different formats.
We are sorry that this post was not useful for you!
Let us improve this post!
Tell us how we can improve this post?