Vi har forbedret programmet ved at tilføje nogle nye konvertering funktioner. Nu softwaren måske ikke kun importere filer af EML, MSG, EMLX (og valgfri MBOX og MBX) formater til Outlook, men også konvertere disse filtyper til PST, RTF, TXT, EML, MSG, TNEF og HTML formater. At drage fordel af denne nye funktion, du bare nødt til at tjekke det "Konverter EML og MSG filer til:" indstilling og vælge den type mål fil på den første guiden side.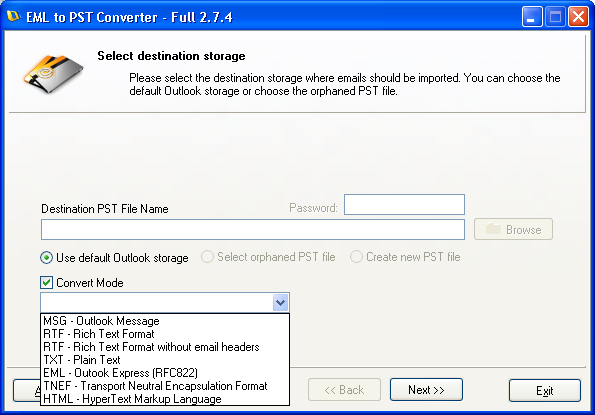 Således programmet er kompatibelt med filformater EML, MSG, EMLX for input og PST, RTF, TXT, EML, MSG, TNEF og HTML til output.
Understøttede dataformater:
EML til PST – Import Outlook Express e-mail-filer til Microsoft Outlook-profil
MSG til PST – Importer ægte MS Outlook-filer i Outlook dataformat
EML til MSG – Konverter Entourage EML-filer til Outlook kompatibel pst
MSG til EML – Konverter Outlook e-mails til EML-format (MSG Converter)
EML til RTF – Konverter EML-filer til Microsoft Word-dokumenter
MSG til RTF – Gem Outlook e-mails til Word-kompatibelt format (Konverter MSG)
EML til HTML – Drej EML filer i web dokumenter af HTML-format
MSG til HTML – Gem Outlook e-mails til filer på html-format
EML til TXT – Konverter e-mails af RFC-format til de almindelige tekstfiler
MSG til TXT –

Save Outlook emails t the text document
Nu kan du holde dit arkiv af meddelelser i en hvilken som helst af de tilgængelige formater, der er egnede til læsning, analysere, søgning og sporing. Forberedelse breve til import i retssystemet, retssager styringssystemet og reaktioner på Freedom of Information Act anmodninger. Det er nyttigt for cross-koncernselskaber, der samarbejder, men ved hjælp af den anden e-mail software eller projekter, hvor beskeder gemmes i den delte mappe, og for kundesupport teams, som ofte modtage e-mails fra kunder i forskellige formater.
We are sorry that this post was not useful for you!
Let us improve this post!
Tell us how we can improve this post?