The Enterprise and Site version of EML til PST Converter now supports batch processing for importing arrays of EML, EMLX og MSG files into one or multiple PST storage filer. This capability may come in extremely useful for large email migration projects involving, for instance, merging of hundreds or even thousands of messages dumped to user-specific folders on the hard-drive into individual PST files. For example, if you are a system administrator and need to transfer messages of many employees who using alternative email programs (like Windows Mail, Life Mail and others) to Outlook, the batch import mode av EML til PST Converter will help you save an immense amount of time and hassle.
EML to PST conversion in Batch Mode
De batch-modus functionality can be accessed from the main program window by clicking the "batch Mode" knapp. De batch import window allows you to create and edit the list of source folders and corresponding output PST files. You can save the list and quickly reopen it in the future to save time using the "Save" og "Load" buttons. Batch list files can be modified in any text editor and are associated with the EML til PST Converter during installation, so all you need to start working is double-click the necessary batch file and hit "Start Batch"!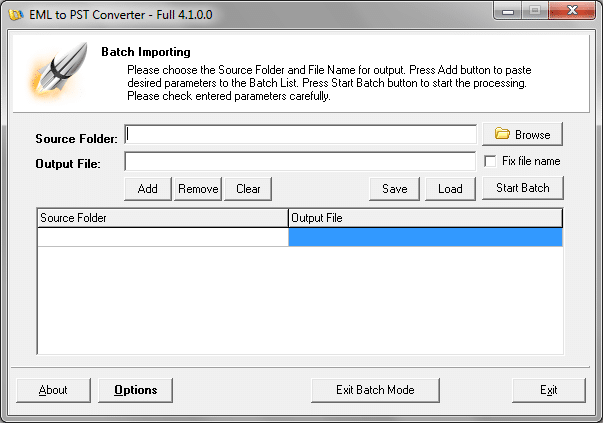 Use the Browse button to open the standard folder/file selection dialog and then click the Add button to add the currently selected folder to the list. De Remove button removes the currently selected list item, while the Clear button clears the list completely.
Importing emails in Batch Mode
With EML til PST Converter, batch processing of multiple email files and merging them into a single PST-fil is a breeze. Just select the source folders the program will scan for EML, ELMX og MSG files and specify the name of the PST-fil. The program automatically names the PST-fil after the last subfolder in the selected path. If you are combining several sources for output to a single destination file, enable the "Fix file name" option and the program will use the same output files for all new folders you add to the list. Note that the names of output files on the list are editable, so you can change them manually at any time.
Once you are done selecting the source folders and corresponding output files, click the "Start Batch" button to start the import process. Som du kan se, using this handy feature is a snap and it can potentially save you countless hours in your email migration or message consolidation project!
Last ned og evaluere EML til PST Converter nå!
Eller gå videre, - Konsesjons kode og låse opp alle finesser
We are sorry that this post was not useful for you!
Let us improve this post!
Tell us how we can improve this post?