De Enterprise en Site versie van EML to PST Converter nu steunen batchverwerking voor het importeren van arrays van EML, EMLX en MSG files into one or multiple PST-opslag bestanden. Deze mogelijkheid kan komen uiterst nuttig voor grote e-migratie projecten waarbij, bijvoorbeeld, samenvoegen van honderden of zelfs duizenden berichten gedumpt aan de gebruiker specifieke mappen op de harde schijf in individuele PST-bestanden. Bijvoorbeeld, als je een systeembeheerder en de noodzaak om de overdracht boodschappen van veel werknemers die gebruik maken van alternatieve e-mailprogramma's (zoals Windows Mail, Life Mail en anderen) naar Outlook, de batch importmodus van EML to PST Converter zal u helpen besparen een enorme hoeveelheid tijd en moeite.
EML to PST omzetting in batchmodus
De batchmodus functionaliteit kan worden geopend vanuit het hoofdvenster door te klikken op de "batchmodus" knop. De batch import venster kunt u de lijst van de bron mappen aanmaken en bewerken en de bijbehorende uitgang PST-bestanden. You can save the list and quickly reopen it in the future to save time using the "Opslaan" en "Load" buttons. Batch list files can be modified in any text editor and are associated with the EML to PST Converter during installation, so all you need to start working is double-click the necessary batch file and hit "Start Batch"!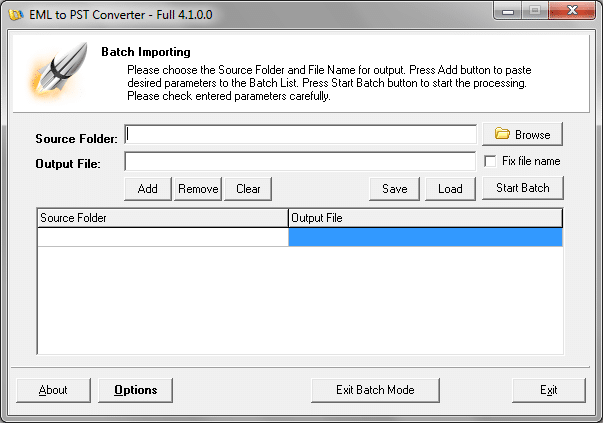 Use the Bladeren button to open the standard folder/file selection dialog and then click the Add button to add the currently selected folder to the list. De Remove button removes the currently selected list item, while the Clear button clears the list completely.
Importing emails in Batch Mode
With EML to PST Converter, batch processing of multiple email files and merging them into a single PST-bestand is a breeze. Just select the source folders the program will scan for EML, ELMX en MSG files and specify the name of the PST-bestand. The program automatically names the PST-bestand after the last subfolder in the selected path. If you are combining several sources for output to a single destination file, enable the "Fix file name" option and the program will use the same output files for all new folders you add to the list. Note that the names of output files on the list are editable, so you can change them manually at any time.
Once you are done selecting the source folders and corresponding output files, click the "Start Batch" button to start the import process. Zoals je ziet, using this handy feature is a snap and it can potentially save you countless hours in your email migration or message consolidation project!
Download en evalueer EML to PST Converter nu!
Of ga je gang, - het verkrijgen van een licentie code en ontgrendelen alle mogelijkheden
We are sorry that this post was not useful for you!
Let us improve this post!
Tell us how we can improve this post?