This article describes the email migration from Outlook Express DBX to Outlook PST format and methods to save your mail database on a hard disk for Microsoft Outlook import using EML to PST Converter.
Compared to Outlook Express, Microsoft Office Outlook is a more full-featured solution which offers true personal organizer support in addition to mail client functions. It is for this reason that Outlook Express migration in favor of MS Outlook is so attractive to many users.
Creating a backup of Outlook Express e-mails
Outlook Express export into .eml-formatted files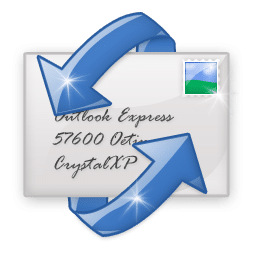 Creating a backup of your e-mail messages in Outlook Express (OE) does not require much available time on your part because the necessary e-mail export can be done without any external tools. First create a root directory on the hard disk where the message files will be saved after the Outlook Express export. Then you should create folders in the root directory that are analogous to those used to store messages in OE (Inbox, Outbox, Archived, folders for specific senders/recipients, etc.). Since Microsoft products are fully interoperable with Windows, you can simply use drag-and-drop to move messages from the Outlook Express window into the corresponding open directories in Windows Explorer.
This export method is possible thanks to the fact that Outlook Express stores messages in .eml format, so when performing the EML export of e-mails into the Windows catalog you end up with a file with the matching file extension. After all of the e-mails have been transferred, you can proceed to import your .eml files into a single file for PST import using the EML to PST Converter.
Using EML to PST Converter for EML to

PST import

of files into MS Outlook
It is extremely easy to use EML to PST Converter as a PST import tool or PST creation tool. On the first page of the wizard, specify the type of the .pst file you wish to create. If you have already worked with MS Outlook, then choose the option to update the existing Personal Folders file: the program will automatically check for the presence of an Outlook PST file on your computer and perform an Outlook import of the e-mail messages by adding them to the file. You can also create a separate Personal Folders file (.pst) and use it alongside your existing one, for example, by specifying a separate .pst file for one or more mail accounts in Outlook.
EML to PST Converter screenshots:
User friendly program interface makes the emails conversion a matter of minutes




The designers of EML to PST Converter put a priority on your time: even when processing large volumes of information, the program works surprisingly quickly. EML to PST Converter also recognizes the Windows folder structure in which e-mail messages are located and transfers the catalog tree to MS Outlook in the form in which you created it. Having completed a MS Outlook import of messages using EML to PST Converter, you can begin using your e-mail without spending time on organizing your folders in the mail program.