Outlook is een geweldige assistent van veel mensen over de hele wereld. Miljoenen Microsoft gebruikers genieten van de voordelen van deze software. Een gewone dag van een gemiddelde werknemer begint met een kopje koffie en ... verwijderen van spam die wordt opgestapeld in de inbox. Dat is wanneer de kennis van hoe spam e-mails te blokkeren in Outlook komt goed van pas.
Nuttige tips over hoe om ongewenste e-mails op Outlook blokkeren
Als een gebruiker een veel inkomende e-mails dat onnodig en zelfs niet gelezen zijn ontvangt, er is een mogelijkheid om af te melden van dergelijke nieuwsbrieven. Echter, er is een meer effectieve manier die door de software. Om e-mails in Outlook te blokkeren 2010, men moet drukken op het tabblad Huis ➾ rommel ➾ Junk E-mailopties. In the window that pops up, choose the tab Blocked Senders. There is the button Add, press it and add those senders who annoy you most of all.
Additional tip: here, it is possible to type not only an email but also a domain name from which to block emails on Outlook.
Users of different versions may still use the steps above. Dus, if you need to know how to block emails on Outlook 2016, check the above guide. These easy steps will help get rid of annoying senders and unnecessary correspondence.
How to Block Emails on Microsoft Outlook

:

Other Possibilities

Users of later versions of Microsoft Outlook have another interface. For this reason, it is important to check alternative possibilities of how to block emails on Outlook Windows 10 can provide to its users.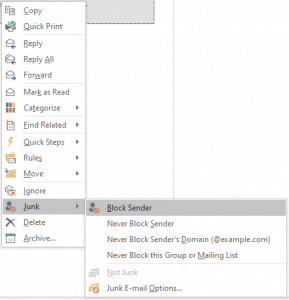 Right-click on email from a sender you would no longer like to receive. In the drop-down list, choose rommel and left-click. Press on Block Sender. Zodanig, this person will still be able to send you correspondence. Echter, it will no longer disturb you, as it will be automatically redirected to the Junk folder.
Blocking Emails in the Mobile Version of Outlook
The version for portable devices has a set of features that is different from PC versions. However there is no option for the wide spam filtering. But user may mark emails as Spam and move them into teh corresponding folder. To know how to block emails on Outlook for iOS or Androide, ga als volgt verder: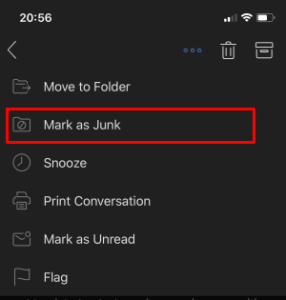 Open your Outlook application and select a email message

;

Tap on the

3

dots icon in the right upper corner

;

Tap

Mark as Junk

;
The email will be moved to the Spam folder.
Some apps, echter, do not provide the above feasibility. In such a case, it is necessary to go to outlook.com, log in the webmail, and block emails in the following manner: in the upper right corner, druk op opties ➾ More Options ➾ choose Junk Email ➾ click on Safe and Blocked Senders. Vervolgens, it is necessary to press Blocked Senders. After, type in an email address or the domain name that has to be blocked.
Globaal genomen, Outlook is designed so that to provide maximum benefits and possibilities to its users. Deze tips helpen u te ontdoen van vervelende e-mails die af te leiden van wat belangrijk is.
We are sorry that this post was not useful for you!
Let us improve this post!
Tell us how we can improve this post?